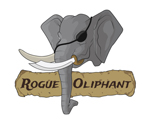 Rogue Oliphant is a loose affiliation of musicians and composers who work on songs and spoken word pieces written by the Irish poet Paul Muldoon.
http://www.rogueoliphant.net/
Among those who have been most closely associated with Rogue Oliphant are Chris Harford (Three Colors, Band of Changes), Ray Kubian (Solar Motel Band, Dean Ween Group), David Mansfield (Rolling Thunder Review), Mark Mulcahy (Miracle Legion, Polaris), Cait O'Riordan (The Pogues), Dana Colley (Morphine), Adam Schlesinger (Fountains of Wayne), Dan Trueman (The Princeton Laptop Orchestra), and Warren Zanes (The Del Fuegos).
The band's first CD, I Gave the Pope a Rhino, has contributions from all the above and is now available from Academic Records (PO Box 31, Sharon Springs, NY 13459) and as a download from CD Baby.

I Gave the Pope a Rhino was recorded at Room 17, Brooklyn, in June 2016. It was engineered and produced by Paul Q. Kolderie (Radiohead) and mastered by Tom Ruff at Asbury Media.